Asthma Treatment in Berwyn Heights, College Park, and Lanham Hyattsville, MD
Are you suffering from asthma? At Express Healthcare, our asthma specialists provide comprehensive treatment options to help you manage your asthma symptoms.

Call

one of our clinics in Berwyn Heights, College Park, or Lanham Hyattsville, MD today to

book an appointment

.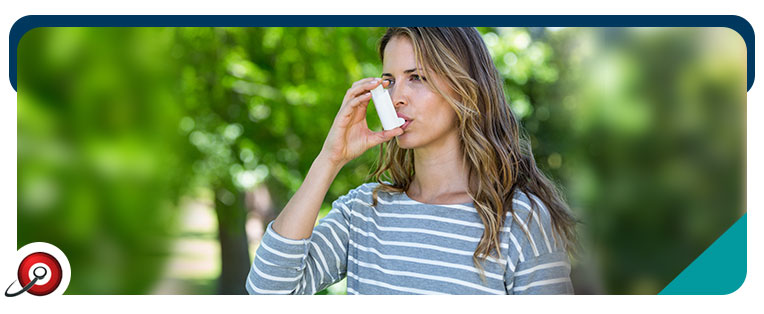 For an asthmatic person, especially a child or senior, proper asthma treatment can be vital. We can help here at Express Healthcare LLC, and our asthma professionals are able to provide treatment for minor, common cases on an ongoing basis. If you or a loved one needs an asthma professional, especially one who is available for urgent care, walk-in appointments, then you'll find one here at Express Healthcare LLC. Contact or come see us today for asthma treatment in Berwyn Heights, College Park, or Lanham Hyattsville, MD.
What are the symptoms of asthma?
Symptoms vary between people, and can occur at different times from person to person. However, there are some common signs and symptoms to watch out for:
Shortness of breath
Difficulty sleeping as a result of coughing, wheezing, or shortness of breath
A whistling or wheezing sound while exhaling, which is an especially common sign of asthma in children
Wheezing or coughing attacks that become worse with a respiratory virus such as a cold or the flu
Chest tightness or discomfort
Difficulty breathing
Any of the above symptoms that flare up during exercise, workplace irritants (like chemical fumes or dust), or allergies (such as a pollen allergy or pet dander allergy)
Can urgent care help with asthma?
Yes, it can help in most situations. For instance, an urgent care professional can diagnose asthma in people. Here at Express Healthcare LLC, we can also use our in-house laboratory to test for certain allergies, which can aid in diagnosis. Also, urgent care clinics like ours can help treat asthma by:
Helping a patient develop a long-term plan for treating asthma and managing symptoms
Providing a patient with a quick-acting (rescue) inhaler for continual use
Providing a nebulizer instead of an inhaler for younger children and patients who have difficulty with inhalers
Prescribing a controller medication to help prevent asthma attacks
Seeing patients for minor, non-life-threatening emergencies, such as a minor asthma attack
Seeing asthmatic patients for any other reason, such as advice or allergy testing
Sometimes the ER (emergency room) is necessary for asthmatic patients. If a situation is life-threatening, or if you're unsure whether a situation is life-threatening, then the ER is necessary.
Do I need an appointment for urgent care?
No, an appointment is not necessary. Urgent care clinics like ours can see patients without the need for an appointment, which is more than convenient when a patient is experiencing more serious asthmatic symptoms. However, please remember that the ER is absolutely necessary for life-threatening situations.
You might be asking yourself why you would go to urgent care instead of the ER. The main reason to go to urgent care for a minor situation is that they will actually be able to see you sooner than if you were to go to the ER for a minor situation. This is because the ER must take care of major, life-threatening situations before they take care of minor situations, and urgent care simply takes minor-situation patients on a walk-in basis.
Do you provide Asthma treatment in Berwyn Heights, College Park, and Lanham Hyattsville, MD?
Yes, we have clinics in all 3 locations! You can get their addresses and contact information over on our Locations page. You're more than welcome to call us to book an appointment, if you like, or you can simply come in and visit us in person without making an appointment. If a member of your family has asthma and could benefit from our services, then you can bring them in, no matter their age.
For any of your minor asthma-related needs, call or come see us today here at Express Healthcare LCC!
ADDITIONAL SERVICES YOU MAY LIKE