Pharmacy in College Park, MD
Express Healthcare offers pharmacy services to make prescription medications more accessible. We provide comprehensive and efficient healthcare services, from filling prescriptions to getting prescription medications. If you need to fill your prescription, come to Express Healthcare in College Park, MD. We offer full pharmacy services with professional care. For more information, contact us or schedule an appointment online.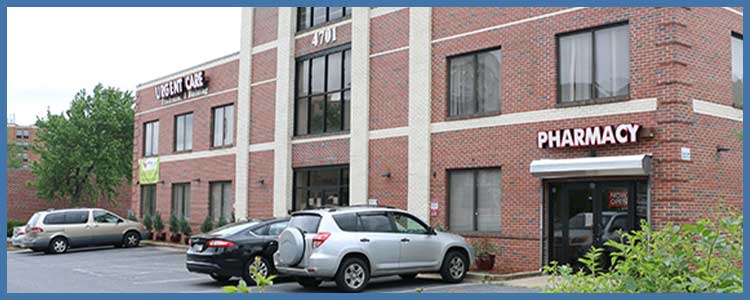 Table of Contents:
What do pharmacists do with prescriptions?
What are the different types of pharmacy?
Where is your Pharmacy located?
Pharmacies are healthcare clinics that provide a vast array of medications to patients with a prescription. They also sell a wide variety of over-the-counter medicines and serve as the first line of contact and supply of pharmacological provisions. It has been an independent science since the early nineteenth century.
What do pharmacists do with prescriptions?

First, the pharmacist may ask if you have visited the pharmacy before. If it is your first time, you will be asked to fill out a consent form, which allows the pharmacist to fill your prescription. If you have been to the pharmacy before, they will ask for an identifier, such as your date of birth or home address. The pharmacist can easily look you up in the system for your prescription records. The pharmacist may then ask if you have had this medication before, and if you have any questions on its effects or side-effects.

Next, the pharmacist or their assistant will enter the prescription into your profile, including the doctor's information, the type of medication and dose, indications from the prescriber, and quantity of the prescription.

After this, the medication bottle will then be scanned and packaged with the Lot and Expiry which is then counted for the prescribed quantity, labelled and handed off to the pharmacist to be inspected.

Following the filling of the prescription, a pharmacist or pharmacy technician will perform a technical check on the accuracy of the information entered into the system, the label and the contents of the vial or package. To provide the patient with more information on the medication, they may also print off counseling documents.

Lastly, the patient will pick up their medication and the pharmacist may advise the patient on best practices. If it is a refill, they may ask how well the medication is working, and whether you are experiencing any side effects.
What are the different types of pharmacy?

A pharmacy is any place where a trained pharmacist might work. There are several different kinds of pharmacy, each with their own distinct use. The different types include:

– Community pharmacy: Also known as a retail pharmacy, this is the most common kind of pharmacy.
– Hospital pharmacy: This type of pharmacy is located within hospitals and often works closely with other healthcare professionals.
– Clinical pharmacy: Clinical pharmacy aims to ensure the optimal use of medications and to prevent adverse reactions.
– Industrial pharmacy: This branch is involved in the research, production, packaging, sales, marketing and quality control of pharmaceuticals.
– Compounding pharmacy: Compounding pharmacy involves producing and preparing medicines in new forms.
– Consulting pharmacy: In order to enable patients to use medications most effectively, consulting pharmacies focus on the theoretical review of medications rather than dispensing them.
– Ambulatory care pharmacy: These special practices provide mobile services and delivery of medications to patients who have limited mobility.