COVID-19 Testing for International Travelers – FAQs
Express Healthcare Urgent Care provides COVID-19 Testing for International Travelers. We serve the surrounding areas of Lanham, College Park & Berwyn Heights, MD. Walk-ins welcome. No appointment needed.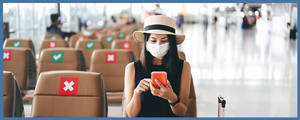 Do we offer PCR testing for traveling outside of the country?
Yes, we offer RT-PCR COVID testing as well as rapid COVID testing and antibody COVID testing.
Do I need a COVID-19 test before my international trip?
A/ Many countries require that travelers provide proof of a negative COVID-19 PCR test before allowing entry. Please consult your airline prior to travel. In many cases, test samples must be collected and negative test results produced within 72 hours of departure or, in some cases, arrival. However, some destinations offer broader windows.
When should I get tested for COVID-19 when traveling internationally?
The CDC recommends that travelers get tested 1-3 days before traveling by plane internationally.
Where can I get a COVID-19 test?
We offer PCR COVID testing at our following locations:
College Park Medical Center
4701 Melbourne Place, College Park, MD 20740
Call Now
Falls Church Medical Center
6305 Castle Place, Suite 2D, Falls Church, VA 22044
Call Now
New Carrollton Medical Center
8500 Annapolis Road, Suite 200, New Carrollton, MD 20784
Call Now
Vienna Medical Center
1980 Gallows Rd. Unit 100, Vienna, VA 22182
Call Now
Waldorf Medical Center
3050 Crain Hwy, #100, Waldorf, MD 20601
Call Now
Oxon Hill Medical Center
6357 Oxon Hill Road, Oxon Hill, MD 20745
Call Now
Falls Church (Skyline) Medical Center
5870 Leesburg Pike, Falls Church, VA 22041
Call Now
(Drive Thru)
Herbert Wells Ice Rink (parking lot)
5211 Campus Dr, College Park, MD 20740
Hours of operation: 8:00am-10:00pm Mon-Fri; 9:00am-7:00pm Sat-Sun.
Do you offer COVID-19 testing to companies who want to protect employees?
Yes. Either companies have a contract with us where testing would be paid for by the company (if you need more information, contact the office manager at 301-441-4400), or the employees would walk in for testing and would be billed to their insurance.
How can I schedule my COVID-19 test?
If you do not have symptoms of COVID-19 and want to be tested due to travel requirements. you can either make an appointment through our website here or walk-in. If you have symptoms, please make an appointment here.
What should I do if my test comes back positive?
If you test positive for COVID-19 by a viral test, know what protective steps to take if you are sick or caring for someone. Isolate yourself to protect others from getting infected and follow CDC guidelines. If you have any symptoms, make an appointment here for a telemedicine visit with one of our providers.
What does a negative COVID-19 test mean?
If you test negative for COVID-19 by a viral test, you probably were not infected at the time your sample was collected. However, that does not mean you will not get sick. The test result only means that you did not have COVID-19 at the time of testing.