Covid-19 Testing Clinic in Berwyn Heights MD
It is important to get tested for COVID-19 to positively identify infections so that potential close contacts can be notified of the risk of exposure. Express Healthcare in Berwyn Heights, MD provides COVID-19 testing services using the different types of tests available to get you your results as quickly and accurately as possible. Give us a

call

or

book an appointment

online for your COVID-19 test.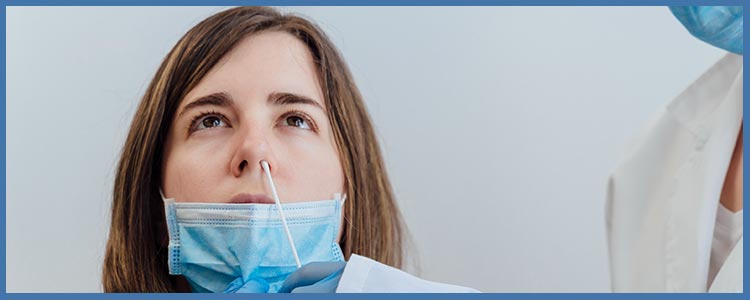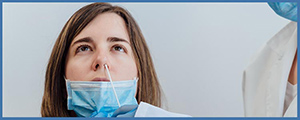 Table of Contents:
What is a Rapid COVID-19 Test?
What are the symptoms of COVID-19?
How long will it take to get the Results of A COVID-19 Test?
How Long do COVID-19 Symptoms take to Start Showing?
What are the Complications of COVID-19?
What is a Rapid COVID-19 Test?

A rapid COVID-19 test is one of several types of COVID-19 tests that are available and is used to detect the presence of protein fragments in the body that are unique to COVID-19. While all types of COVID-19 tests are useful in helping to stop the spread of the virus, this particular test can be particularly useful as a form of screening at workplaces, events and other places where large groups of people will be gathered. A rapid test is named as such due to the quick turnaround of test results, which can be as little as 15 minutes after the test swab was taken.
What are the symptoms of COVID-19?

COVID-19 has a long list of frequently experienced symptoms, many of which are similar to those of a common cold. There are also several symptoms that are rarer and seen on a much less frequent basis, although they can often be linked to an existing medical condition. Symptoms will vary from one person to the next, with children having slightly different symptoms than adults.

The most frequently noted symptoms of COVID-19 are:

– Dry cough
– Fever or chills
– Fatigue
– Difficulty breathing or shortness of breath
– Headache
– Muscle or body aches
– Sore throat
– Loss of smell or taste that has recently started
– Runny or congested nose
– Nausea, vomiting or diarrhea

If you feel any of the above symptoms, and especially if you are experiencing multiple symptoms, it is recommended that you isolate yourself immediately from other people. You can either wait for your symptoms to resolve themselves, or you can arrange to get a COVID-19 test from an approved testing facility such as Express Healthcare in Berwyn Heights MD.
How long will it take to get the Results of A COVID-19 Test?

COVID-19 test result times will vary, depending on which test was performed. There is more than one type of test method available, with the rapid test and the PCR test being the two main ones. Test result timing will also vary based on the volume of tests the lab has to process at the time. The results from rapid tests can be ready in as little as 15 minutes. PCR (polymerase chain reaction)tests are considered to be the most conclusive test for their ability to detect the virus's presence shortly after infection, often even before the patient has noticed any symptoms. Results for a PCR test are usually ready in two to three days, but timing will vary based on the availability of the lab. Express Healthcare in Berwyn Heights, MD can provide patients with either test, choosing the one that is most suitable based on your individual situation.
How Long do COVID-19 Symptoms take to Start Showing?

COVID-19 affects everyone differently, and their symptoms can range from mild to severe. Some patients may not have any symptoms at all, even though they test positive for the virus. Symptoms can appear anywhere from two to fourteen days following exposure. Even after the virus has cleared up, in some cases, symptoms have been found to linger for several months afterwards. If you feel like you may have COVID-19, either because you have symptoms or because you were exposed to someone who has tested positive, you should self-isolate until you can get tested and receive a negative test result, or your symptoms clear up. If you are experiencing symptoms of COVID-19, call Express Healthcare to book a telemedicine visit or a COVID-19 test if our team feels that you are a likely candidate to have the virus.
What are the Complications of COVID-19?

Due to the relative newness of COVID-19, we still don't yet fully understand the long-term health complications that it can cause, but some complications that have been seen are pneumonia, septic shock, multi-organ failure and respiratory distress, often resulting in the patient being put on a ventilator. So far it has been shown to affect every individual in a different way, varying from no symptoms, or mild symptoms, to severe, life-threatening symptoms, and even causing death in thousands of people in a short time. Severe symptoms that people have experienced include difficulty breathing, constant pressure or pain in the chest, not being able to stay awake, having trouble waking up and a blue or grey tinge to the nail beds, skin or lips. COVID-19 infections can lead to people being hospitalized, placed in intensive care, requiring a ventilator to breathe, and in some cases, to death. Many patients who have been infected with COVID-19 have reported having lingering symptoms for several months even after the virus has left their system.

At Express Healthcare in Berwyn Heights MD, we are able to help patients manage their COVID-19 symptoms and watch for signs of complications. We serve patients from Berwyn Heights MD, Idylwood VA, Tysons VA, Oakton VA, Merrifield VA, and Woodland Acres VA.