Covid-19 Testing Clinic in Falls Church, VA
As COVID-19 continues to spread and evolve, testing continues to be used as a way to track its spread and identify new cases. At Express Healthcare in Falls Church, VA we provide COVID-19 testing services to any individual needing to confirm whether or not they have been infected. Give us a

call

or

book an appointment

online for a COVID-19 test.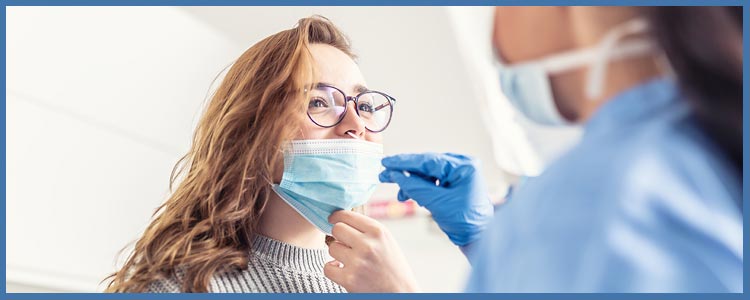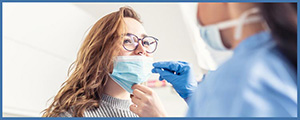 Table of Contents:
What is a Rapid COVID-19 Test?
What are the Symptoms of COVID-19?
How Long will it Take to get the Results of a COVID-19 Test?
How Long is it Before COVID-19 Symptoms Start to Show?
What Complications can COVID-19 cause?
What is a Rapid COVID-19 Test?

When it comes to COVID-19 tests, it can be easy to get confused over the different types that are available. Different tests can be used to test people who are symptomatic or asymptomatic for the presence of the virus. The rapid test, as it is commonly known as, is an antigen test, which is used to detect the protein fragments in the body that are specific to COVID-19. This type of test can help stop the spread of the virus as it quickly and efficiently tests individuals to find out if they have an infection and the results can come back in as little as 15 minutes. Rapid tests are more likely to produce an accurate result from a patient who is experiencing COVID-19 symptoms.
What are the Symptoms of COVID-19?

No two people experience COVID-19 in the same way, with symptoms differing from one person to the next. Factors that can affect the appearance of symptoms include the age of the patient and any pre-existing health conditions they may have. It has been observed that children often experience different symptoms than adults. COVID-19 does have symptoms that have been shown to be fairly common across individuals who have contracted the virus, although additional symptoms have been shown in some patients.

The most frequent COVID-19 symptoms that people experience are:

– Dry cough
– Fever or chills
– Fatigue
– Difficulty breathing or shortness of breath
– Headache
– Muscle or body aches
– Sore throat
– Loss of smell or taste that has recently started
– Runny or congested nose
– Nausea, vomiting or diarrhea

If you think you may have COVID-19, arrange to get a COVID-19 test from an approved testing facility such as Express Healthcare in Falls Church, VA.
How Long will it Take to get the Results of a COVID-19 Test?

The wait time to get your COVID-19 test result times will vary, depending on which test you have taken. For tests that are run through a lab, such as a PCR test, the result wait time will be based on how many tests the lab has to process ahead of yours. Rapid tests are not processed in a lab, and so results can be available in as little as 15 minutes. PCR tests are considered to be the gold standard COVID-19 test as they are able to detect the virus's presence within a couple of days of infection, even without symptoms. Results for a PCR test will typically take two to three days, but this can vary anywhere from a single day to a week or more, depending how busy the lab is. Express Healthcare in Falls Church, VA is able to perform either test and will choose the most suitable one based on each individual case.
How Long is it Before COVID-19 Symptoms Start to Show?

The recommended isolation, or quarantine, time for people who have been exposed to COVID-19 or who have been infected by it, is between 10 and 14 days. This is because symptoms can take anywhere from 2 to 14 days to appear. Each person who experiences COVID-19 will experience it differently, with some people having mild to no symptoms and others having severe or life-threatening symptoms. COVID-19 can lead to death in some people, while having no effect on other people. With such a broad window of symptoms, it is important to closely monitor how you are feeling and stay home if you are feeling unwell. Some patients have found that their symptoms have lingered for several months afterwards, even though the virus has left their body. At Express Healthcare, we can help you determine if your symptoms might be a sign of COVID-19 and provide you direction as far as testing or isolating.
What Complications can COVID-19 cause?

As doctors, scientists and medical experts continue to learn more about COVID-19, they are also learning more about the complications it can cause, some of which are multi-organ failure, septic shock, acute respiratory distress and pneumonia. With the virus still being fairly new, we don't yet know what the long-term complications will be for people of all ages and with any number of medical conditions.

As far as we know and understand COVID-19, the primary symptoms of the virus are similar to those of a common cold. This virus is so much more than a cold though and has symptoms over and above a cold or flu. People with conditions that affect their immune system experience far worse symptoms, as do people who have respiratory issues. Older people and people with existing conditions are more likely to suffer from severe symptoms such as extreme difficulty breathing or being able to catch their breath, chest pain or pressure, not being able to stay awake, difficulty waking up and a blue or grey tinge to the nail beds, skin or lips. People suffering severe symptoms or complications may need to be hospitalized or put on a ventilator to help their breathing.

The team at Express Healthcare in Falls Church, VA can help you to determine if your symptoms require immediate medical attention or are a sign of a complication that requires close monitoring. We serve patients from Falls Church VA, Woodland Acres VA, Seven Corners VA, Pimmit Hills VA, and Arlington VA.