Physical Therapy Specialist in New Carrollton, MD
Physical therapy is a medical procedure that can help in the improvement or restoration of mobility, the relief of pain, and the reduction of the need for surgery and prescription medicines. Physical therapists diagnose and treat people of all ages who have medical issues or other health concerns that impair their ability to move and perform useful activities in their everyday lives. Our healthcare professionals will tailor your treatment to help you achieve your movement goals. For more information, contact us or schedule an appointment online. We are conveniently located at 8500 Annapolis Road, Suit 200 New Carrollton, MD 20784.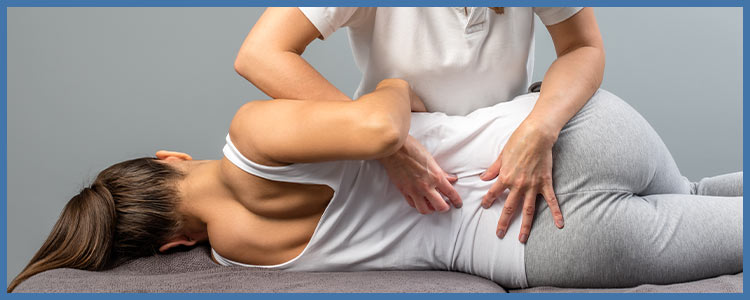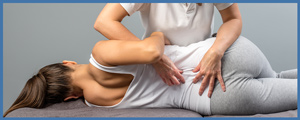 Table of Contents:
What does physical therapy do?
What are the types of physical therapy?
Why is physical therapy important?
How often do you need to go to physical therapy?
There are many different reasons people may be recommended to start physical therapy, but in all cases, starting physical therapy and continuing to stick to the regimen that your physical therapist recommends can quickly and significantly improve your well-being and quality of life.
What does physical therapy do?

Physical therapy is used by many patients who are suffering from a physical chronic condition that limits their mobility, or are recovering from a serious injury that has affected one or more parts of their body by developing a treatment plan that is customized for their specific capabilities and goals. This treatment plan may include exercises and stretches that will gradually improve the patient's mobility, or to manage and reduce pain levels, increasing overall function and preventing long-term disabilities. Regularly visiting a physical therapist when recommended to you by a physician or surgeon often ends up being the reason that patients are able to recover quickly and properly from traumatic injuries or are able to function day-to-day when suffering from a chronic condition, making physical therapy life-changing in many cases.
What are the types of physical therapy?

There are many different types of physical therapy, all of which can be further customized to fit the specific needs and capabilities of each patient. Common types of physical therapy include:

Pediatric physical therapy: Used exclusively for children often for correcting birth defects, acute damage, genetic defects, or abnormal physical growth.

Geriatric physical therapy: Treats age-related conditions typically with the goal of reducing pain and improving mobility.

Neurological physical therapy: Treats disorders that are caused by the nervous and neuromuscular systems to retore function and mobility.

Orthopedic physical therapy: Used to treat different conditions that are caused by disorders of the musculoskeletal system to correct deformities.

Cardiopulmonary physical therapy: Treats patients who have chronic heart and lung disease.

There are many more types of physical therapy that are used on a daily basis to treat a wide variety of physical and neurological conditions, ensuring that everyone is able to have access to care that will help to restore function and reduce pain.
Why is physical therapy important?

Physical therapy may be recommended for a number of reasons, all of which will include the goal of improving a patient's quality of life, whether that be through improved mobility, pain relief, improving balance, or preventing injuries. Restoring or allowing patients to maintain their mobility while reducing pain as much as possible has very significant impact on their quality of life, often preventing potential future injuries from occurring or preventing the need for invasive surgeries down the road. When used for pain management, physical therapy is often able to prevent or reduce the need for patients to take strong pain-killers or potentially harmful opioids. It is also a great way for those dealing with age-related physical problems to learn various exercises and stretches that will continue to provide benefits for maintaining strength and mobility long-term to help manage chronic conditions, prevent falls or other injuries from occurring, and maintain their quality of life for much longer.
How often do you need to go to physical therapy?

The frequency at which you be recommended to go to physical therapy will vary quite a bit depending on the reason for which you are receiving treatment. It is common that once its safe to start physical therapy following a surgical procedure or injury that you will need to go 3 to 4 times per week, and gradually be able to go less often likely only once weekly after there has been substantial progress. Even though you likely will not be going to physical therapy every day, you will likely be instructed to do daily stretches and exercises at home to further improve the condition and to reach the desired results faster. It may feel as if your physical therapist is pushing you, but that is required in order to make progress and they will not push you to do anything that could lead to more harm or injury. Most physical therapists will provide regular appointments (at least once weekly if not more frequently) for 6 to 8 weeks before it will be up to the patient to continue doing the exercises and stretches on their own. There are some cases where patients will be able to check-in with their physical therapist every couple of months or annually to ensure that the progress is continuing.

At Express Healthcare LLC, you receive physical therapy care designed for your specific needs. For more information, contact us or schedule an appointment online. We are conveniently located at 8500 Annapolis Road, Suit 200 New Carrollton, MD 20784. We serve patients from College Park MD, New Carrolton MD,  Berwyn Heights MD, Falls Church VA, Lanham MD, Seabrook MD, Springdale MD, Mitchellville MD, Glenarden MD, and surrounding areas.